Our level controls are used as level detectors for dry, powder or granulated products such as flour, grains, powdered charcoal, polyethylene and ground wood.
They are normally placed at the top and/or bottom of silos, hoppers and storage tanks. They are especially recommended for measuring difficult-to-slide products such as flour and grain shells.
Available models of level controls
The rotary level control guarantees the sending of the detection signal for countless quantities of powder and granular products such as flour, grains, shells, powdered charcoal, polyethylene, expanded polystyrene, ground wood, etc.
An extension of up to 1.5 m in length can be supplied as an option, in case a full silo detection is required from the tank lid.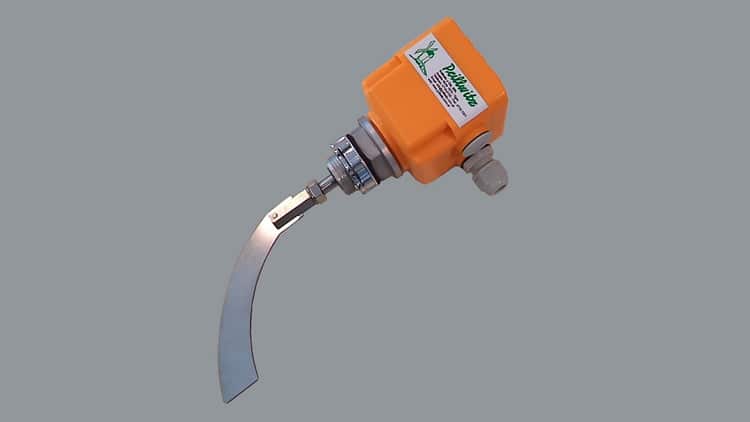 Detection is made when the paddle stops rotating or begins to rotate.
A small motor controls the paddle through a reducer.
When the product reaches the rotating paddle, it stops, and the resulting force is used to activate a microswitch that sends a signal.
At the same time the level control motor stops.
When the level drops, the microswitch is released and the paddle begins to rotate again.
The fact that it is mechanical guarantees almost 100% the sending of the signal when detecting the product.
Simple installation and no need for calibration.
More information in the following links
Fork level control SCV vibrating
It is a vibrating fork level control for use in silos or tanks containing fine-grained granulated solids or powdery solids, even with low density.
For typical applications, such as flour, sugar, powder, plaster, etc.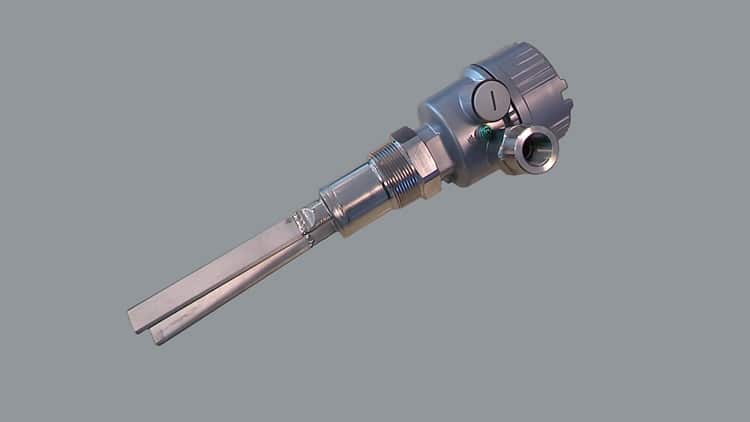 The tuning fork-shaped vibrating fork is excited at its resonant frequency. Because the oscillation frequency changes when the vibrating fork is reached by the product, it is detected and translated into a signal.
No moving mechanical parts; no maintenance needed
Measurement is not affected by dirt buildup or external vibration
Simple installation and no calibration required