The flour, semolina and hulls silo facilities store the products directly received from bulk or big bag trucks.
Some advantages of handling these products in silos instead of bagging are:
– Personnel savings
– Space saving
– Increased cleanliness
– Avoidance of human error
– Flour at a lower price. Only in some countries.
– Saves the weight of the bag and the remainder left in the bag when it is emptied. Studies have shown that this value is approximately 2.5%.
– Better quality of flours: Mainly due to the fact that it is difficult to return the flour with this type of installation, the mill is especially careful with the quality of the flour.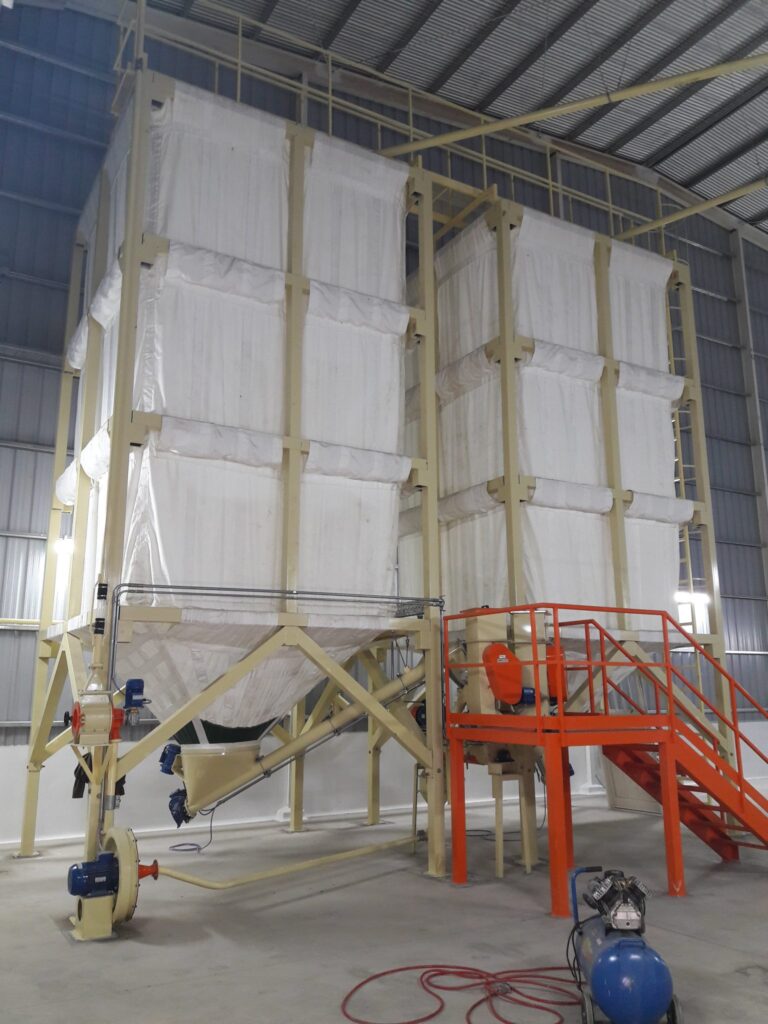 Wheat flour silos in noodle plant.
What do we need to know to size a flour silo installation for you?
In case you need us to make you a proposal according to your needs, we would need you to send us the following information:
Daily consumption of each product. Flour in its different types, sugar, starch, etc.
Height of place for silos: minimum of 3.5 meters. If not outdoor silos.
Distances from truck to silos and from silos to unloading or consumption points.
How flour will be received: by bulk truck or Big-Bag.
Number of unloading points and type with individual consumptions. The different types of unloading are:
– With scale. The capacity of the mixer is weighed. Flour can be mixed. Water dosing is optional.
– Discharging directly to tank with level controls that send the start and stop signal and valve for discharge.
– With cyclone and rotary lock valve for continuous discharge.
Products that our machines can process